Home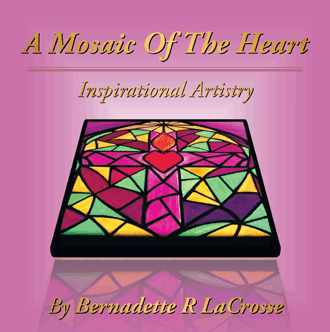 Welcome to my website!
I am Bernadette R. LaCrosse, author of
A Mosaic Of The Heart.
I hope you enjoy my "Work of Art"...
It seems that wherever you go these days, we are all dealing with difficult times.  Open your heart to an astounding collection of 'Inspirational Artistry', - original paintings, inspired poems, beautiful photos, and selected bible passages.
Captivating!  Colorful!  Contagious!
Apply it to soothe your heartaches and mend the heartbreaks! 
A GIFT TO SHARE, HEART TO HEART...
ORDER NOW, - TREASURE FOREVER!